My baby girl is ONE!
I can't believe it,
I really don't know where the time went
(tear
). But anyway, enough babbling... onto the decorations.
I think I kinda went overboard on this one and if I keep trying to outdo my last party I'm in trouble! Eventually I'm going to either run out of
time
or out of
sanity
... not sure which one will come first.
Starting off, we have the front door...
iparty
).
Then in the entryway (
in case you weren't sure why you were here...)
Moving on a little bit we have the "
Shrine of Jillie
"
On the mantle we have her month by month banner (
using the paper accordion fan thingys as a background that I can not possibly recall where I saw instead of the circle that I used for Charlotte's 1st birthday month by month banner
)
and NOW onto the
CUPCAKE (and dessert) TABLE
!
Click to enlarge (and I am really proud of this so go ahead and click!)
PS - I made the table cloth too... and love the doilies scattered around


The breakdown of the dessert table:
Sugar cookies AND... my first time rolling out cookie dough and using cookie cutters. As you can see I only
have 4 "shapes".... I got bored with rolling out the dough and did the rest in flattened balls of dough. Sue me.
Vanilla cupcakes, Grandma's wedding icing, edges rolled in sprinkles.
Orange cupcakes with orange and white swirled Grandma wedding icing...
with same cupcake tags made in photoshop
These were the favor boxes so each guest could bring home a cupcake. These are actually leftover from my wedding...
I just made a tag (in photoshop) large enough to cover the "Eric & Stevie" that were printed on them 5 years ago.
If the cupcakes weren't enough... I made a LARGE cupcake for the centerpiece.
PS - Do you see that orange cupcake to the left... that's sitting on an upside down
margarita glass as a display; I did the same for the Chocolate cookie cupcakes too on the right.
and LASTLY I tried my hand at marshmallow pops (seen EVERYWHERE, but designed to match these) held up by skittles. Not gonna lie... the skittles didn't work at all. Maybe I didn't have enough. These were actually the biggest hit with the kiddos.
And since I didn't catch it in the picture of the table (dummy), here is the wreath that was hanging above the table
This WAS inspired by someone here in blogland... someone I follow but for the life of me I can't find the stinkin blog post to link it to. She found pink and green bows in the dollar section and added a number of the birthday. So if that was YOU... let me know and I will totally post your link!!
And NOW for the party...
Saturday was the party. Then on Sunday, Jillie got baptized. It was a HUGE weekend...
Time to get ready for Thursdays playdate birthday party... I. Am. Exhausted!
Thanks for stopping by! I hope you liked it :)
Linking up:
CRAFT,
Keeping it Simple,
Making the World Cuter
,
Blackberry Vine
,
Homework,
Not Just a Housewife,
A Bowl full of Lemson,
Chef in Training
,
Vintage Gwen,
Someday Crafts,
Sweetpeas and BB,
Women who do it all,
Dragonfly Designs,
Trophy Wife,
DIY by Design,
Gingersnap Crafts,
My Girlish Whims,
Sew Much Ado,
handy man crafty woman
,
Momnivores Dilema,
Gluesticks
,
Crafty Blog Stalker,
It's a Keeper
,
house of Hepworths,
Fingerprints on the Fridge,
Sun Scholars,
Faith Trust and Pixie Dust,
Bacon Time,
Delicate Construction,
Ladybird Ln,
Remodeloholic
,
Naptime Crafters,
Just a Girl
,
Tatertots and Jello,
Young and crafty
,
Running with Glitter,
Jessica N Designs,
Featured: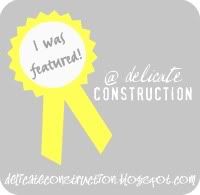 ,